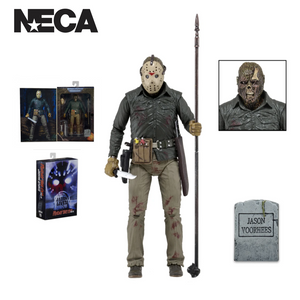 (NECA) Friday the 13th -Ultimate Jason Part 6 Figure
1,80000 ฿

1,800.00 ฿
Tax included.
---
---
ฟิกเกอร์เจสัน จากหนังสยองขวัญในตำนาน ถอดใส่หน้ากากได้ มาพร้อมกับพร็อบอีกมากมาย ของแท้แน่นอนจากแบรนด์ NECA พร้อมจำหน่ายแล้ววันนี้ ส่งฟรีทั่วไทย !!
From the Friday the 13th fear franchise, we present the definitive collector's version of Jason as he appeared in Part 6: Jason Lives!
This deluxe 7" scale action figure features a gruesome, freshly unearthed sculpt and over 25 points of articulation. It's loaded with accessories, too: removable mask, a machete and a knife that both fit into sheaths on his belt, the fence post that reanimated him and his tombstone.
Packaged in a collector-friendly deluxe window box.