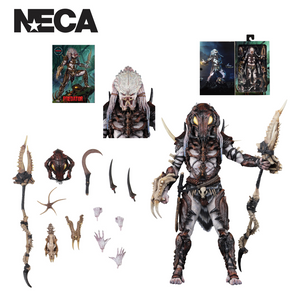 (NECA) Predator - Ultimate Alpha Predator 100th Edition 7" Scale
2,50000 ฿

2,500.00 ฿
Tax included.
---
---
ฟิกเกอร์พรีเดเตอร์อัลฟ่า มาพร้อมกับพร็อบต่างๆ มากมาย ของแท้แน่นอนจากแบรนด์ NECA พร้อมจำหน่ายแล้ววันนี้ ส่งฟรีทั่วไทย !!
To commemorate the release of over 100 different Predator figures comes the very first original design and concept by NECA, the Alpha Predator!
In place of the traditional tech, gadgets, and armor worn by other yautja, the Alpha's attire takes on a more insect-like appearance; a subtle homage to the original 1987 Predator design. Standing at 8" tall with over 30 points of articulation, the Ultimate Alpha Predator is an entirely new sculpt kitted out with an array of accessories including a removable mask, hook, gauntlets, and 3 pairs of interchangeable hands. Classic Predator weapons such as the wrist blades, staff, and shuriken, have been reimagined to fit his unique theme.
Deluxe Ultimate Packaging with new artwork by Jason Edmiston and an original origin story!