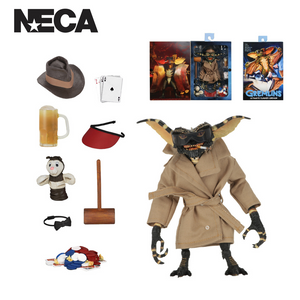 (NECA) Gremlins - Ultimate Flasher 7" Scale Figure
1,80000 ฿

1,800.00 ฿
Tax included.
---
---
Any fan of Gremlins knows the 3 simple rules: keep them out of sunlight, don't get them wet, and never feed them after midnight. Break them and you may find yourself having to cancel Christmas dinner.
Based off of the Dorry's Tavern scene in Gremlins, the Flasher Gremlin comes equipped with a removable fabric trench coat. Not only that, he is super loaded with new accessories, including a poker visor, poker chips, mallet, puppet, fedora, bowtie, and more, allowing you to recreate the looks of other Gremlins from the film!
Deluxe 5 panel window box packaging featuring new artwork by Jason Edmiston.